Historic 1776
Dobbin House Tavern

The Dobbin House continues to be OPEN DAILY and is serving food and cocktails.

Our "Springhouse Tavern Diners Choice Menu" with your favorite Tavern dishes is being served from 11:30am to 9:00pm every day. We do not take reservations for this menu, it is first-come, first-served.

The "Alexander Dobbin Dining Rooms Diners Choice Menu" with our most popular dining room dinners is being served daily from 5"00pm to 9:00pm. We do accept reservations for this menu and all walk-ins are welcome.

A full array of cocktails, wine and beer is available in all areas.

OPEN DAILY 11:30am - 9:00pm


Notice! Please try to make your dinner reservations for our Alexander Dobbin Dining Rooms about a week in advance! Due to the increased number of visitors, the lack of staff availability, other area restaurants being closed on certain days (due to staff shortages), the Dobbin House is experiencing wait times for reservations and seating. In our desire to maintain the same high quality of service that our loyal guests have come to expect in our 46 years as a restaurant/tavern, we are compelled to limit the number of people we serve each day. Unfortunately, this means our reservations fill up quickly. We truly regret that we cannot serve all those who call for a reservation for our full-dinner menu on the same or in a few days. The best way to make sure you get a reservation is to call ahead. The Dobbin House staff thank you for your understanding, cooperation and patience!
Note: Our Springhouse Tavern menu, as always, does not take reservations for this wide selection of dinners, sandwiches, salads and popular cocktails. Seating here is first-come, first-served. This menu has also been busy and, like most other area restaurants, is seeing wait times to be seated. We recommend that you arrive early.

The Gettystown Inn Bed and Breakfast is also OPEN DAILY and taking reservations.

As always, the safety and well-being of our Dobbin House guests, staff and community is of top priority. We are still taking all necessary measures to use best practices in deep cleaning our locations as per the protocols set by the CDC, the Pennsylvania Department of Health and local officials.
Again, the entire Dobbin House "family" thank you for your continued support!



Dine in Gettysburg PA's Oldest, Most Historic Home
"...Beautifully and Authentically Restored"

and open to the public as a colonial restaurant.

Four Score and Seven years before the Civil War Battle of Gettysburg, (1776),
Reverend Alexander Dobbin built a house to begin a new life in America for himself and
his family. Today his home, listed on the National Register of Historic Places, is a colonial
restaurant where candlelit elegance, superior food in abundance, and gracious service bring back
the sights, sounds and tastes of two centuries ago. AAA rated. The friendly hospitality of the Dobbin House
extends to the Springhouse Tavern,
Gettystown Bed and Breakfast, Country Curiosity Store, Abigail Adams Ballroom,
in-house
bakery and secret "underground railroad" slave hideout.


DOBBIN HOUSE ATTRACTIONS


For Casual Dining...
THE SPRINGHOUSE TAVERN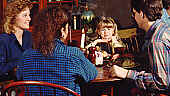 A most unique eating and drinking alehouse amidst three natural springs and two glowing fireplaces. This cozy
and romantic colonial tavern features your favorite spirits, generous dinner platters, fresh deli sandwiches and
salads, homemade soups and tasty desserts. Food served anytime, day or night. Open Daily From 11:30 AM.
No reservations accepted.






For Fine Dining in the Colonial Manner...
THE ALEXANDER DOBBIN DINING ROOMS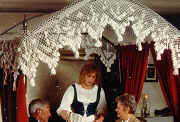 Where candlelit elegance, superior food in abundance, and gracious service bring back the sights, sounds and
tastes of two centuries ago.

Dine in six historic rooms: The Dining Room, Library, Parlor, Study, Spinning Room, and Bedroom (wherein
one can actually dine in bed!)

Enjoy an outstanding menu of traditional delicacies: Colonial and Continental Cuisine, prepared from the finest
and freshest ingredients. Plus delicious homemade breads and irresistible desserts from our own bakery. Children's Menu.
Open Daily from 5:00 PM. Reservations Advised.



For Your Larger Gathering...
ABIGAIL ADAMS BALLROOM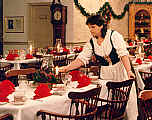 The unique country charm is perfect for banquets, meetings, and special occasions for up to 130 guests.
Featuring Adams County style entrees, fresh vegetables, salad bar, and delectable homemade desserts.
Free Banquet Planning Kit available.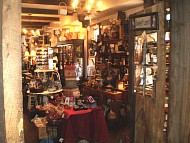 An eclectic collection of old-time wares and sparkling new treasures!



Interested in staying in one of our lovely bed and breakfast rooms?
GETTYSTOWN INN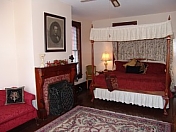 A Bed & Breakfast with nine charming guests rooms in Historic Civil War Era homes comfortably
furnished to look like 1863 with beautiful 19th century antiques, quality reproductions and accouterments.
Lodging includes a hearty breakfast served in the sunny parlor of The Dobbin House located next door. Ideally situated to overlook the
spot where Lincoln gave his Gettysburg Address and centrally located within walking distance of the National Park Service Visitors Center.
Click here to check availability and make an online reservation.

National Register of Historic Places (U.S.A.)
Registered Historic Landmark (PA)
Mobil Guide

Any Questions? Email us
89 Steinwehr Avenue (Business Route 15 South)
Gettysburg, PA 17325
Phone:(717)334-2100 Fax: (717)334-6905
Follow us on Facebook

Copyright © 1996-2023 Dobbin House Inc. All rights reserved.